Launching 2013 Vegetable Share Program.
For the first time we will be offering a CSA Vegetable Share Program. This means that for a 17- 20 week period you will be receiving vegetables grown on our farm and harvested just hours before you pick them up. In 2013 we have the equivalent of 25 full shares for sale. The advantage to our shareholders will be getting their veggies from a certified organic farm specially picked just for them often at a discount from their market price. You will also have access to our on-farm baking, organic eggs and pastured meats. There will be free extras such as flowers and herbs as well. The advantage to us the  farmer is; we will have an initial investment made by our shareholders making it much easier to buy the necessary inputs and tools for the coming season. A 20% deposit is required on registration.
Our program allows you to choose the produce you want.
Each vegetable will have a point value, for example: bunch of beets is one point, head lettuce is one point, quart of potatoes is one point etc. Each share will have a certain number of points to spend (8 small and 12 medium & 17 large). A small share would feed 1-3 people on the average. Medium 2-4 people, large 4-6 depending on your family needs. Note: vegetarians and vegans would eat more than the average person. In addition, for holidays you can opt out of up to 3 weeks. And if you cannot be there to pick up send a friend who will sign in and pick up for you.
Pick ups are at the farm Tuesdays 3:30 to 7:30 pm.
If you cannot make it you can come to our stand at the Meaford Farmers Market Friday afternoons. (Please note we attend this market July-Thanksgiving weekend.)
The Amount you pay depends on the number of weeks and the size of the  share you choose: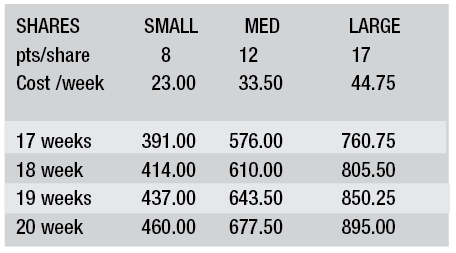 EARLY BIRD SPECIAL: Discount of one week's payment for those who buy their share before April 1. A 20% deposit is required upon registration. Balance due June 1/2013.
Start date is mid-June.